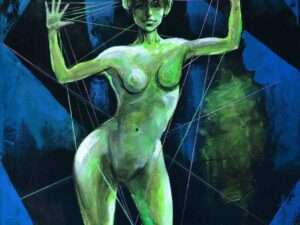 A modern acrylic painting on canvas depicting abstract figures and blue night stars in azure skies.

I had a long road from academic painting to abstract art after I graduated from the Arts Academy.

It took me a long time to break free from the academic approach, and it continues to influence my thinking.

I brought the beauty of reality with me and used it to create abstract art.

My paintings are abstract works of art based on genuine subjects that have been transferred to the canvas.

My inspiration for abstract paintings with vibrant colors and patterns comes from reality.

I feel true enjoyment and pleasure when I'm engaged in the creative process and pushing my artistic boundaries.

Acrylic paint is my preferred mixed-media paint because of how rapidly it dries.

The ability to use a wide range of media in a single piece of art is greatly enhanced by abstract paintings.